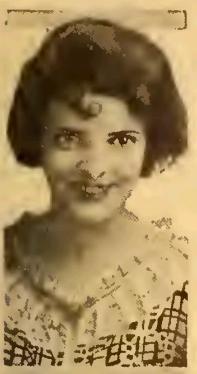 Ninety years ago today, the September 26, 1925, issue of Radio Digest announced the winner of the coveted title of Miss Radio 1925, namely, Miss Rena Jane Frew of 334 Fifth Street, Beaver, Pennsylvania.
She won a silver cup and a trip to New York City where the award was presented at the Radio World's Fair by Governor Al Smith. The contest was billed as one to "discover the 'Diana of Radio'–the most successful and enthusiastic hunter of distant stations."
Miss Frew was twenty years old.  The magazine reported that she had been an amateur since the age of 14, and reported the call sign of her station as 8ME.  According to the 1922 call book, that call was licensed to Beaver High School.  That same call book does not show any call under her name, meaning that she apparently did not have her own station.  According to the Harrisburg Evening News, Sept. 12, 1925, she did have her operator's license, and states that she was the first licensed operator in Pennsylvania, and probably the first east of the Mississippi. During her freshman year, she taught a class in wireless.  In fact, she was well known to the hams in the Pittsburgh district, who referred to her as the "Little Ladybug." After broadcasting became popular, she tuned in every principal station in the U.S., Canada, and Puerto Rico, as well as foreign stations.
Among her other duties, according to the Chicago Tribune, Miss Frew attended the Chicago radio show as one of the chief guests.
In 1927, she was teaching, and as one of her former eigth grade students recounts, she headed that school's radio club.
According to her sister's obituary, she became a special education teacher in Rialto, California, and died on June 30, 1996.  A photo of the cup being presented by the governor is available at this link.
Click Here For Today's Ripley's Believe It Or Not Cartoon