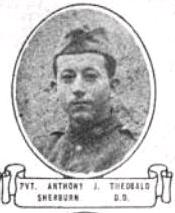 During the centennial of World War 1, this page periodically remembers American servicemen who gave their lives in that war.
Anthony J. Theobald was born  on January 17, 1894, in Buffalo Grove, Illinois.  He was the son of Mathias J. and Maria (nee Stiff) Theobald.   He served as a Private in the U.S. Army during World War I and survived until after Armistice Day.  However, he died of disease in Germany on March 4, 1919.
According to Martin County in the World War, he was a resident of Jay Township, Martin County, at the time of his induction into the Army as an infantry private at Fairmont, Minnesota, on July 26, 1918. He was assigned to the Headquarters Company, 54th Pioneer Infantry, at Camp Wadsworth, S.C. On August 29, 1918, his unit embarked from Newport News, Virginia, aboard one of the transports Duca d'Aosta or Caserta and arrived at Brest, France, on September 12, 1918, where he was engaged in the Meuse-Argonne Offensive from September 27 until the Armistice on November 11.
Thereafter, his unit was garrisoned in German towns in the vicinity of Wittlich and later Coblenz, and he continued service with the Army of Occupation in Germany, where he contracted pneumonia.
The unit's history is available online.
Private Theobald died on March 4, 1919, at Neuendorf, Germany.  His death was announced in the War Department's casualty list of March 21, 1919.  His body was returned to the United States and he was buried in St. Luke's cemetery, Sherburn, Minnesota, in July 1920.
The photo here is from Soldiers of the Great War, Volume 2, Page 111.