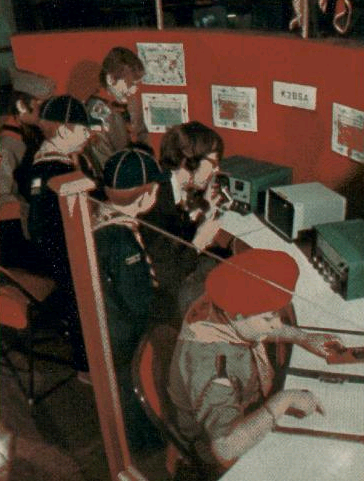 Shown here is the flagship Amateur Radio station of the Boy Scouts of America, K2BSA, as it appeared 40 years ago this month, in the August 1975 issue of Boys' Life.
As reported in the magazine, the station was then located at the Johnston Historical Museum, on the grounds of the BSA's then national headquarters in North Brunswick, New Jersey. K2BSA is still active, although it no longer has a fixed location from which it operates. It is on the air on multiple bands and modes at BSA Jamborees. At the most recent one in 2013, I was on staff, and thousands of contacts were made around the world. In addition, the station call sign and even portable equipment are available for loan by licensed hams who are scouts and scouters for use at scouting events. In this way, the call sign is frequently heard during Camporees and other events at which scouts get a chance to experience amateur radio.
The article notes that in 1975, the station was put on the air on weekends on a monthly basis to allow visitors to speak to other Scouts around the country.
A larger reincarnation of the museum is open to the public at the National Scouting Museum near the organization's present headquarters in Irving, Texas.
(Scouts who are working on the Scouting Heritage or Radio merit badges will find helpful information for both at my website.)
Click Here For Today's Ripley's Believe It Or Not Cartoon