Off and on from 1934 to 1942, WLW in Cincinnati operated with 500,000 watts. For a time, it held the title as the world's most powerful radio transmitter, and it was the most powerful broadcast station to ever operate in the United States. Other stations sought permission to boost their power to similar levels, but permission was never granted. In fact, WJZ in Newark, NJ (currently WABC), had gone as far as to order a 500 kW transmitter, but was never given permission to put it on the air. The WJZ transmitter was later sold to the British government, which put it to use during the war as the world's most powerful mediumwave station.
500,000 watts is a lot of RF, and WLW had its work cut out to deal with it. One of the first problems was adjacent channel interference to CFRB 375 miles away in Toronto, which on 690 was only 10 kHz below the behemouth transmitter. This was solved by a passive element which WLW constructed across the road to limit the signal toward Toronto.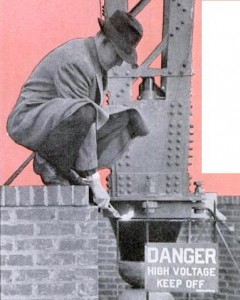 The other issue was all of the RF floating around near the transmitter site in Mason, Ohio, and those problems were detailed in a Popular Science article 80 years ago this month, June 1935. The photo here shows a WLW engineer drawing a spark from the metal fence that surrounded the tower. The arc would sing in time with the station's modulation.
WLW programming could be heard from metallic objects for miles around. And if a man held a pair of wires attached to a 100 watt bulb in his hand near the gate to the tower site, enough electricity would pass through his body to light the lamp. A number of residents near the site erected antennas to tap the free energy and run lights or small appliances.
Much of the old WLW transmitter is still intact,  The video below shows a 2013 tour of the old facility:
References
Click Here For Today's Ripley's Believe It Or Not Cartoon