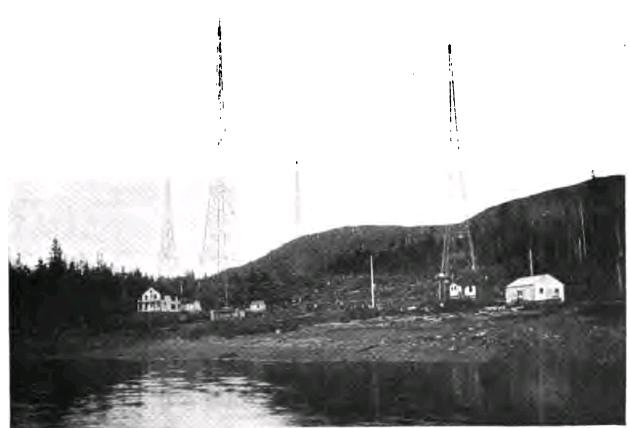 This illustration of KPB, the Marconi Wireless station in Ketchikan, Alaska, appeared in The Wireless World a hundred years ago this month, June 1915. The U.S. Government already had wireless stations in place in Alaska, but the rate for private correspondence was extremely high, and the Marconi Company set out to provide private competition. Stations leased from Marconi were in place at canneries and mines in Chignik, Naknek, Kodiak, Nushagak, Koggiung, Clark's Point, and other locations. In addition, most of the ships serving the canneries were equipped with Marconi wireless stations.
The hub of Marconi's Alaska network was the Ketchikan station shown here, and another under construction at Juneau. They, in turn, were linked to the station under construction at Astoria, Oregon.
The four 300-foot self-supporting towers of the Ketchikan station stood at the corners of a rectangle measuring 300 by 600 feet. The wire antennas were afixed to 14-foot wooden masts at the top. Three thousand pounds of zinc plates were buried in a circle around the station's power house. Due to the heavy rainfall, the plates were continually wet.
2300 volt power came from the city power plant two miles away and powered a 25 kW rotary disc. The receiving station was 75 feet away, with two tuners covering 100-4000 meters and 100-7000 meters.
References
Click Here For Today's Ripley's Believe It Or Not Cartoon