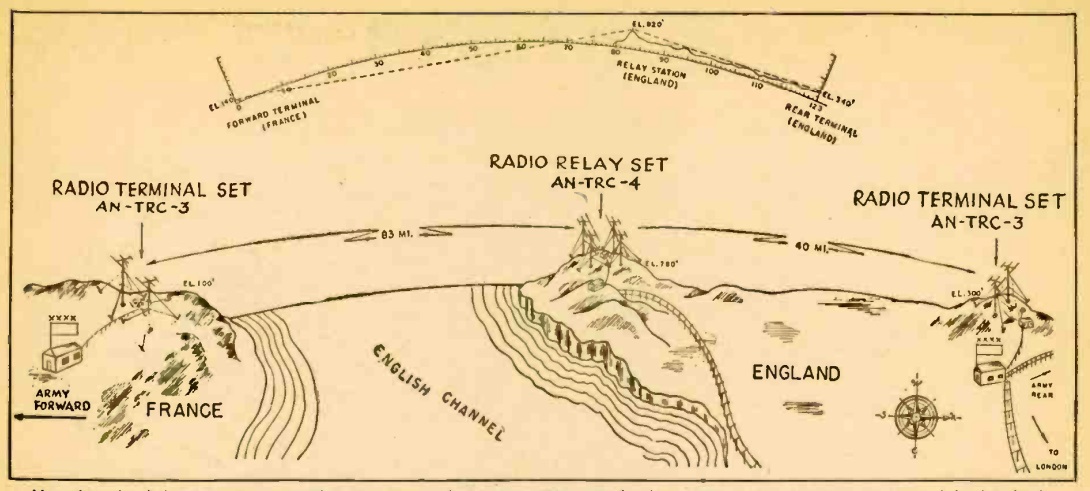 In an earlier post, we looked at a 3-element VHF yagi shown in a historical photo of the Siege of Bastogne in December 1944. It was part of a U.S. Army Signal Corps FM relay which linked the isolated forces to the Army landline telephone network.
A similar setup was used a few months earlier on D-Day, as shown from this diagram in the May 1945 issue of Radio Craft magazine.  The link shown here was operational the second day after the initial Normandy landing and carried facsimile and voice traffic from London to the front. Within a few months, additional stations were added to the network, and the magazine notes that the network thus established covered an area equivalent to that from New York to Chicago and Detroit to Atlanta.
The army primarily relied upon wire communications, but even on the continent, radio links such as these provided an important backup function. On one occasion, the main cable across France had been cut, but nearly 2709 messages were handled during a 24 hour period.
Click Here For Today's Ripley's Believe It Or Not Cartoon