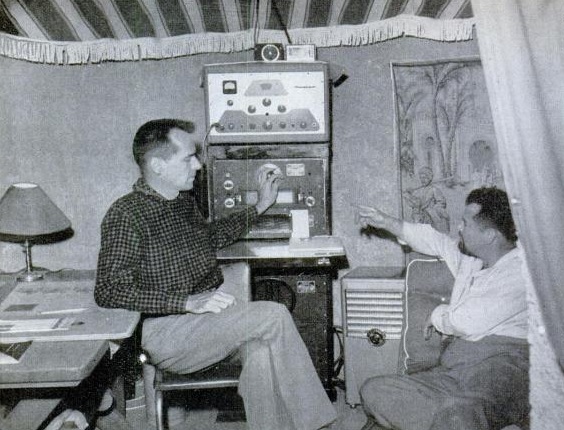 The cozy ham shack shown here is actually the fallout shelter of  William A. Rhodes, W7PYH.  (in the 1972 and 1993 call book, his call appears to have changed to W7KLA.) His Phoenix shelter, along with another one in California. appeared in the March 1958 issue of Popular Mechanics.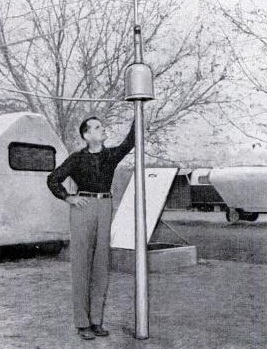 He had a well-equipped underground station.  The unit on top is a Heathkit DX-100 transmitter, beneath which sits an HRO Junior receiver.  The presence of the nameplate on the receiver suggests that this was a military surplus version of the HRO.  The station would have covered 160 through 10 meters.  The large unit on the floor appears to be the speaker/power supply for the receiver.  (The other unit on the floor to the right of the radio equipment is apparently a dehumidifier.)  The antenna, shown here, was a vertical mounted on the ventilation pipe, through which power to the shelter ran.
Power was apparently supplied by commercial power, or perhaps a generator mounted above ground.  The shelter's floor plans, shown below, don't make any reference to a generator.
Interestingly, the floor plans do show an oxygen cylinder.  While this might have been of limited utility, it is understandable given the owner's background.
Rhodes was an inventor and founder of Arizona HydroGen Manufacturing, which manufactures an electrolysis unit which generates a mixture of hydrogen and oxygen which is used immediately for purposes such as welding.  The process seems relatively straightforward, and as far as I can tell, Rhodes never made any extraordinary claims as to it.  However, it seems to have received some attention from those who do make extraordinary claims as some sort of free energy source.  Since he was in the business of hydrolyzing, it's not surprising that the shelter contained a canister of oxygen.
Rhodes seems to have been a prolific inventor in a variety of areas.  Most notably, he was the co-inventor of U.S. Patent 2594740, an electronic light amplifier with applications in astronomy and in television.  Remarkably, Rhodes' co-inventor was none other than Dr. Lee De Forest, the inventor of the triode vacuum tube.
And Rhodes' name is also well known in UFO circles, since he photographed a UFO in 1948.
Rhodes died in 2007 at the age of 90.  According to this site, the shelter remained intact as a computer room until his death.
References
Click Here For Today's Ripley's Believe It Or Not Cartoon