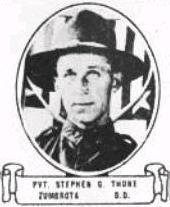 During the centennial of World War 1, this page periodically remembers American servicemen who gave their lives in that war.
Steffen Thune of Zumbrota, Minnesota, was born on February 21, 1888, the son of Syver and Sissel Thune (Tune) and had seven brothers and sisters.
He served in the United States Army as a private in the 343rd Infantry, 86th Division. The unit was activated in 1917 in Illinois, and went overseas in August 1918.  It never saw combat, and returned to the United States in November of that year.  Private Thune died of disease on October 4, 1918, as listed in the Official U.S. Bulletin of December 6, 1918. His next of kin is listed there as his father Syver, with an address of R.F.D. 4, Box 14, Zumbrota, Minnesota.
He is buried at Arlington National Cemetery where his headstone incorrect gives his last name as "Thumb."  After nearly a century, the error has never been corrected.  (This Washington Post article discusses the prevalence of similar errors at Arlington National Cemetery.)
The photo here is from Soldiers of the Great War, Volume 2, Page 111.