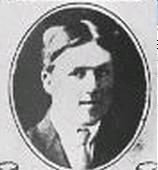 During the centennial of World War 1, this page periodically remembers American servicemen who gave their lives in that war.
Private Carl Alfred Oefstedahl of Spring Grove, Minnesota, was born in 1893. He appears to have been born in North Dakota, the son of Peter and Inger Oefstedahl, and is recorded as being a resident of North Dakota in the 1900 Census.  He served in Company L, 138th Infantry.
In the casualty list of July 23, 1918, he was reported as being killed in action, one of 24 men so listed that day.  He is buried at Spring Grove Lutheran Old Cemetery, Spring Grove, Minnesota.
The photo here is from Soldiers of the Great War, Volume 2, Page 114.