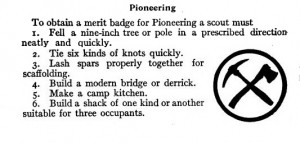 Requirements for various Boy Scout merit badges change over the years.  Pioneering merit badge is still current, but the requirements have changed since the original ones, shown here from the original 1913 Scout Handbook.  The current requirements can be found at meritbadge.org.
For 16-year old Scout George Salak of Racine, Wisconsin, the first requirement rubbed him the wrong way.  It didn't feel right cutting down a live tree just to earn a merit badge.  Therefore, he sent the following letter to the editor of Boys' Life, which appeared in the January 1915 issue:
Being a First-Class Scout my chief desire has been to become the first Eagle Scout in this city. So far I have managed to pass satisfactorily nineteen Merit Badges and have entered upon Pioneering which I have completed with the exception of the first question, which requires a Scout to fell in a prescribed direction a 9-inch tree.

I am writing you with the purpose of finding out whether the felling of such a tree is not a direct violation of our Scout Law number six, also if it would not be just as sufficient to demonstrate what cut to take or write a statement on how to fell a tree. As far as I am informed there are approximately 500,000 Scouts in the United States. Can you imagine what a tremendous destruction of trees would result if each of these boys were possessed with a desire to fell one tree apiece? In all my years of service, this being the sixth, I have always been opposed to the wilful destruction of trees. Kindly inform me what course to pursue.

Thanking you for giving this matter your prompt attention, I remain,

–George Salak, Racine, Wis.
The editor responded:
For the benefit of other Scouts who may be puzzled with the same problem, it is announced that the Committee on Badges Awards have already had this matter under consideration and the test as now required omits this item.
Mr. Salak went on to become an Eagle in May 1915, probably the first in Racine.  That accomplishment is recorded in the July 1915 issue of Boys' Life.
The following year, he became a postal clerk and served in that capacity for two years.  During the First World War, he  served in France as a member of Battery C, 121st Field Artillery, when that unit of the Wisconsin National Guard was called to federal service.  After the war, in 1919, along with his brother Charles he formed the Salak Music Company.  In 1922, the company moved to a larger location at 306 Fifth Street, a location currently housing a storefront church.   He died in 1937 at the age of 38.
Click Here For Today's Ripley's Believe It Or Not Cartoon