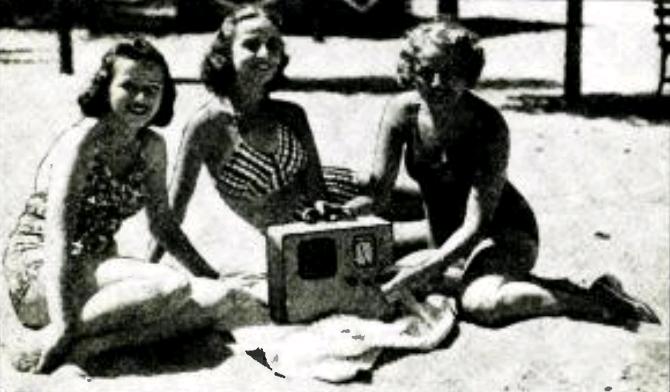 It was probably cold in December 75 years ago, but that didn't stop Radio Craft magazine from running this photo in its December 1939 issue.
The radio is the Stewart-Warner 1940 model, the model 05-5L1 portable. The super-heterodyne radio tuned the standard broadcast band and contained five tubes. It would operate on AC power, or with 1.5 and 90 volt batteries. For battery use, it used the following tubes: 1A7GT, 1N5GT, 1H5GT, and 1Q5GT. It also included a 70L7GT, which is a combination rectifier and power amplifier. Apparently, the 70L7 was in the circuit only when running AC power, meaning that the radio would put out a lot more volume when plugged in. The listeners shown here apparently didn't mind the lower volume level when listening at the beach. The caption notes that to show that the radio would play anywhere, Stewart-Warner's sales manager "put this one on the beach and surrounded it with nice scenery."
A schematic diagram of the radio is available at RadioMuseum.org, and an eBay photo of a surviving example can be found at this link.
Taking the radio to the beach or out on the water was apparently a popular pastime in the early days of radio, as shown by the following examples. Curiously, the most inclined to bring the radio with them on their trips to the beach were pretty girls. Click on any of the photos for more information.

Click Here For Today's Ripley's Believe It Or Not Cartoon