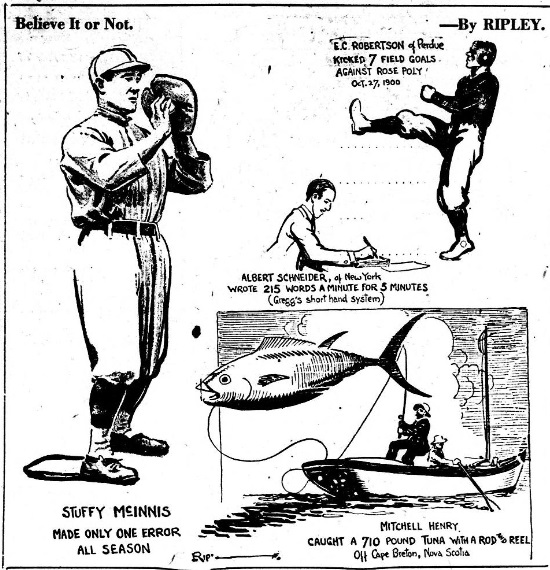 OneTubeRadio.com is pleased to announce a new advertiser, Ripley's Believe It or Not!,  which was founded by iconic cartoonist and world explorer Robert Ripley
 in 1918 with his famous cartoon feature. Nearly a century later, the cartoon is still in production and can be viewed online .
The cartoon shown here appeared in the Washington Evening Star on November 15, 1921. The early cartoons often focused on sports, but also included other interesting oddities such as the gentleman who caught a 710 pound tuna in Nova Scotia.
Today, the Ripley's empire includes "odditoriums" and aquariums worldwide in tourist destinations. When I was growing up, our local paper didn't carry Ripleys' Believe It Or Not!, but I took advantage of the various books. Young readers will especially enjoy the
RBI books, containing the fictional adventures of young members of the "Ripley's Bureau of Investigation." The first book in the series is available as a free Kindle book
.

Click Here For Today's Ripley's Believe It Or Not Cartoon