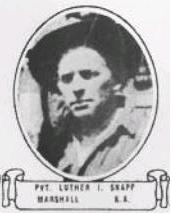 During the centennial of World War 1, this page periodically remembers American servicemen who gave their lives in that war.
Private Luther Irl Snapp was born on September 15, 1892, near Marshall Minnesota. He was the son of Mr. and Mrs. Samuel Snapp. He graduated from the Marshall public schools and worked as a carpenter until 1915, when he moved to Baker, Montana. He enlisted in the Montana National Guard Infantry and served on the Mexican border. He was mustered into service in April 1917 and served with the 41st (Sunset) Division, 163rd Infantry, and sailed to France in the fall of 1917.
He was transferred to Company H of the 167th (Alabama) Infantry, 42nd (Rainbow) Division.  He was killed in action in  Chateau-Thierry on July 28, 1918, during the capture of the village of Sergy in the Second Battle of the Marne.
He was buried in the American cemetery near Sergy. His body was later disinterred and returned to the United States. He was buried at Marshall, Minnesota.
An American Legion Post in Marshall was named after Private Snapp in 1919. That Post does not appear to be in existence today.
The photo above is from Soldiers of the Great War, Volume 2, page 104.
References
Fallon County Times, October 24, 1918 and October 1921.
White Earth (Minn.) Tomahawk, Sept. 4, 1919.