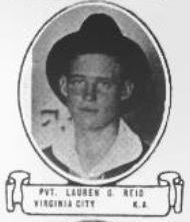 During the centennial of World War 1, this page periodically remembers American servicemen who gave their lives in that war.
Private Lauren Gilbert "Duby" Reid of Virginia City, Nevada, died on this day in 1918. He was born in Storey County, Nevada, on March 28, 1896, one of three children and the only son of William Garrence and Ellen Reid. He was wounded by shrapnel in the Bois d'Apremont, northeast of Binarville, Argonne Forest, France, and died of his wounds the next day, October 8, 1918, just over a month before the Armistice. He was one of the Lost Battalion of about 554 men cut off and completely surrounded by German forces during the  Meuse-Argonne Offensive, in which over 26,000 other American soldiers also lost their lives. The battle was the largest in U.S. history, and involved 1.2 million American soldiers. Some 70,000 French soldiers were also killed, as were between 90,000 and 120,000 Germans.
Private Reid served in the U.S. Army, 308th Infantry Regiment, 77th Division, Company G. His grave is at the Meuse-Argonne American Cemetery, Romagne, France. His record can be viewed at the website of the American Battle Monuments Commission.
American Legion Duby Reid Post 30, Sparks Nevada, is named in his memory and continues to honor him.
The photo above is from Soldiers of the Great War, Volume 2, page 219.
Read More at Amazon