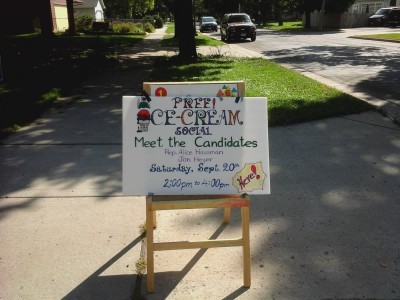 UPDATE (Oct. 13):  After my letter to the editor detailing this incident appeared in the Roseville-Little Canada Review newspaper,  I did get a phone call from Rep. Hausman. I wasn't home, but she left a message on my answering machine, and I followed up by e-mail. She told me that she hadn't received my three letters. At first, she was under the impression that I had sent them by e-mail or left a voicemail. I explained that I had sent them by "snail mail" to her campaign address as listed on the Campaign Finance Board website.  I had sent them to the Commonwealth Avenue address listed on that site.
In a follow-up e-mail, she thanked me for the information, and told me that the Commonwealth address was that of her former campaign treasurer. She said that the former treasurer had become too busy and "we had to change treasurers." She also stated that the information had been corrected with the campaign finance office. This explanation seems plausible, since the Campaign Finance Board site lists the new treasurer's name, with a different address. But for the campaign's main address, it continues to list the old treasurer's home address, presumably in error.
A check of the campaign finance reports shows that the treasurer changed sometime in 2014. A report filed on January 29, 2014,  shows the old treasurer's name and the old address. A report filed on July 28, 2014, shows the new treasurer's name and the new address.
So this is quite possibly a case of an innocent mistake at the Campaign Finance Board. And I can tell you from experience that the job of campaign treasurer is both thankless and involves a lot of work.
But it still seems troubling to me that the outgoing treasurer apparently didn't see the importance of forwarding to his candidate three pieces of first-class U.S. Mail. The address on the Campaign Finance Board website, even if it's wrong, is still the one they have in their records, and important mail presumably gets sent to that address. And even if they did so incorrectly, the state published that address as being that of the candidate's committee. At the very least, this episode represents a serious lapse in responsibility on the part of the campaign, one that kept Rep. Hausman insulated from her constituents.
I do appreciate the fact that Rep. Hausman took the time to call me and follow up. And I'm sure she'll be on the phone tomorrow morning to the Campaign Finance Board to correct the error on their website. But I still think this reflects poorly on how she relates to her constituents.
---
I believe that local politicians should be accountable to their communities and be willing to listen to their constituents' concerns.  Unfortunately, I don't believe that Rep. Alice Hausman shares that value.
This afternoon, my wife and I hosted an ice cream social to give our friends and neighbors the opportunity to meet both candidates for this November's legislative race, Rep. Hausman and her challenger, retired educator Jon Heyer.  I previously posted an invitation on this blog and on my law office website, and I thank those of you who were able to attend.
Both candidates were given flexibility with regard to scheduling the event.  We mailed a letter to each of the candidates in which we proposed four possible dates.  We included a postage-paid reply postcard and asked the candidates to return the card if one of the dates did not work for them.  We also included our phone number and e-mail address.  Jon Heyer returned the postcard indicating that he was unavailable one of those dates.  We received no response from Rep. Hausman.
We then scheduled the event, and mailed an invitation to each of the candidates.  We even sent a third letter reminding them of the date, and offering each of them the opportunity to bring a campaign sign, and to distribute any campaign literature.  All of the letters we sent to both candidates were addressed to their campaign committee addresses as listed on the website of the Minnesota Campaign Finance and Public Disclosure Board.
We were pleased to have Jon Heyer attend and speak to our friends and neighbors.  Even though many of those people were Alice Hausman supporters, they now know that if Jon Heyer is elected, they will have a representative who is willing to listen to their concerns.
Unfortunately, if Representative Hausman is re-elected, her constituents will not have the same opportunity.  She did not attend the event, nor did she tell us that she was unable to do so.  She didn't even supply any campaign literature.  I took it upon myself to print out her website, and this was the only contact she had with her constituents.
This is not the first time that Representative Hausman has failed to respond to constituent concerns.  In March, I sent her an e-mail with my thoughts concerning the proposed constitutional amendment regarding judicial elections.  As an attorney, I believed that I could provide some insight into the measure.  I previously wrote about that subject on this blog, and I think I raised an important point that had been overlooked by both sides in that debate. It is quite possible that Rep. Hausman disagreed with my views, but I will never know for sure.  I never received any response whatsoever to my e-mail.
Representative Hausman has served in the Legislature for a quarter century.  It could be argued that she has already done her share of meeting with grassroots voters over long legislative career.  Unfortunately, however, most of her service in the Legislature has been in a district that is very different from the one she now represents.  For her first 23 years in the Legislature, she represented a district covering St. Paul.  But after 2012 redistricting, she now represents Roseville, Falcon Heights, and Lauderdale, along with the tiny sliver of St. Paul in which she and I happen to reside.  Her district is now very different from what it was for the first 23 years of her service.  If she wishes to represent her new very different district, then she needs to make a conscious effort to listen to the concerns of her new constituents.  She has shown me twice that she is not willing to do that.
Jon Heyer also lives in St. Paul, but he grew up in Roseville.  And more importantly, he has shown that he is willing to take the time to meet with constituents, whether they live in Roseville, Falcon Heights, Lauderdale, or St. Paul.  He has earned my vote, and that of many of my neighbors.