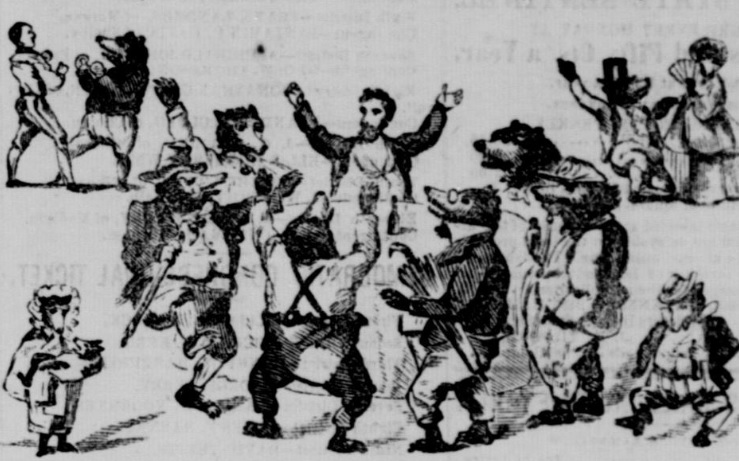 150 years ago today, Hoosiers were undoubtedly excited by the soon to arrive circus. But this wasn't just any circus. The acting bears depicted here (realistically, no doubt) were but one of the many attractions to be featured at what was billed as "positively the largest exhibition of the amusement world," The Monster Equescurriculum! It was going to be an immense and unparalleled combination, heralded here in the September 19, 1864, edition of the Indianapolis Daily State Sentinel.
The bears shown here were "Old Grizzly Adams' Troupe of Acting Bears, from California."  Adams himself, it would appear, wasn't traveling with the bears, since he died in 1860 from a succession if injuries caused by the bears (and in one case, a monkey).  The bear depicted on the California state flag is apparently one of Adams' bears.  It is not known whether that bear was one of the bears to visit Indiana, although the bear wearing a top hat bears a strong resemblance to the one on the flag.
But according to the announcement, since the combination of acts is such as had never before been attempted by private enterprise, it gave notice that the management will be "pardoned for directing attention to the fact that this magnificent phalanx of exhibitions not only combines and infinitely greater degree of novelty, variety and effect within itself than can be found in any other place of amusement in the world, but also a nearer approach to perfection in every detail." It also notes that the performance entailed such an enormous expenditure of money that only the most liberal patronage could render it remunerative.
Admission for one of the four performances was fifty cents, 25 cents for children under 12.