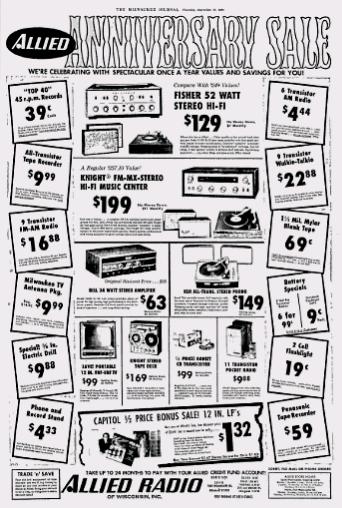 We didn't have an Allied Radio store in my neighborhood, but they were still big in 1964, as evidenced by this full-page newspaper ad fifty years ago today, in the Milwaukee Journal, September 17, 1964.
Having good stereo gear was a rather expensive proposition. A turntable, amplifier, and speakers would set you back $129. A set including an AM-FM stereo receiver was $199. A twelve-inch black and white TV was $99.
A 3-1/4″ reel-to-reel tape recorder was available for only $9.99 (limit one to a customer). For the serious audiophile, a stereo tape deck was $169. Transistor radios started for $4.44. The nine-volt batteries for that radio were six for 99 cents, and flashlight batteries were nine cents each, but both limit 6 per customer.
While those prices appear modest, 1964 was the last year that that money was made out of real silver. By comparison, other ads in the same issue show that you could buy a case of beer for $1.79. At the Walgreen's lunch counter, you could get a turkey dinner for 65 cents. Tires for your car started at $5.99. And at the supermarket, chuck roast was 45 cents a pound, carrots and bananas were a dime a pound, and five pounds of flour was 42 cents.
One would think that very few products made by Gonset showed up in normal commercial newspaper advertising, but this is a case where one did.  The ad shows the Gonset G-15 CB transceiver, normally $199.95, on sale for $99.  The 10-tube radio had four crystal-controlled channels, and its receiver tuned all 23 channels.  It operated on either 120 volts AC, or 6 or 12 volts DC with its built-in vibrator power supply.