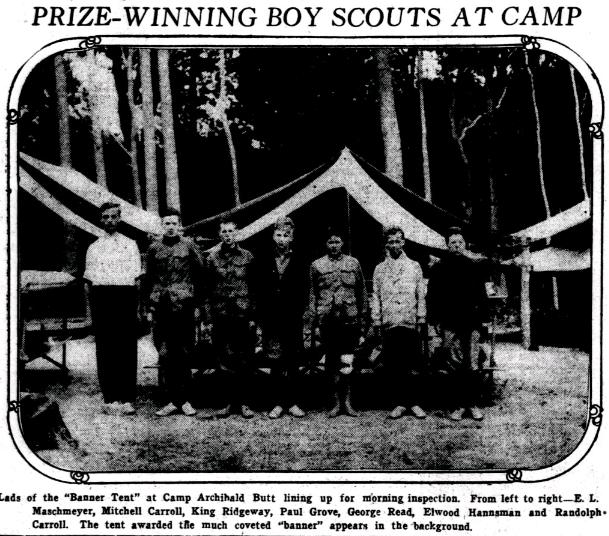 A hundred years ago today, the Washington Times of August 23, 1914, shows these scouts at Camp Archibald Butt, a camp operated by the Baltimore and Washington councils of the BSA between 1914 and 1916.
The scouts are identified as E.L. Maschmeyer, Mitchell Carroll, King Ridgeway, Paul Grove, George Read, Elwood Hannsman, and Randolph Carroll.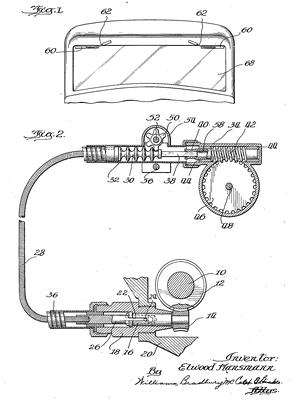 The scout second to the right is presumably the same Elwood Hannsman who went on in 1936 to secure U.S. Patent No. 2031830 for the windshield cleaner shown here. Mr. Hannsman was also issued U.S. Patents 2268072 for a direct reading gauge (1941) and 2100188 (1937) for another windshield cleaner. The assignee of all three patents was the Stewart-Warner Corporation of Chicago, which was presumably Mr. Hannsman's employer.
And at some point, it would appear that Stewart-Warner sent Mr. Hannsman to law school, since he is listed as one of the attorneys for Stewart-Warner in a number of cases, including
Jiffy Lubricator Co. V. Stewart-Warner Corp., 177 F.2d 360 (4th Cir. 1949).
He was a member of the ABA Section of Patent Trade-Mark and Copyright Law. He was the Chairman of the Patent Sub-Section at the time of his death in 1954.  (ABA Journal, June 1954).